Peace of mind
comes with being prepared.
Feel confident that you have done everything in your power to do right by the people in your organization and community. Our emergency preparedness consultants can help make sure you are ready to act when disaster strikes.
Optima EP works with private and public organizations to help them prepare for, respond to, and recover from emergencies.
A Planned Approach to the Unexpected
Emergency situations don't wait for response plans, budget allocations and communication strategies to be developed before their impacts are felt, and state and federal resources may not meet the level of support needed in a crisis.
When disaster strikes, you want to know you have preparedness plans in place that you can quickly activate. That's where Optima EP comes in. We can help you be ready.
Partnering with Optima EP means you benefit from proactive, customized, and actionable preparedness plans designed to enhance your response capabilities.
Guidance from Experienced Consultants
Optima EP prepares your organization to deal with a wide variety of scenarios. Our emergency preparedness consultants have deep experience helping organizations prepare for, respond to, and recover from a crisis.
Whether it's a natural disaster or human-made event, our emergency consultants provide a comprehensive selection of planning and training offerings to better prepare organizations for the unexpected.
Learn about our team
I have had the absolute pleasure of working with and receiving training from Aimee and Brian. The content is solid and they balance this great information with humor and intellect. This delivery style leads to a maximum and successful intake of important concepts for public health professionals.
I attended a two-day Group Crisis Intervention Course with Aimee Wollman Nesseth. She has earned my highest respect and endorsement. She expertly packaged and delivered her wealth of knowledge, skills, and expertise into a learning experience that empowered me to serve my law enforcement community with more confidence and deepened capacity.
COVID has been incredibly difficult for the entire population, especially public health workers. I sponsored bringing Optima to Milwaukee County and opened the training session to all our County Public Health agencies. Aimee and Brian have an excellent grasp of the need and the way forward after COVID. I firmly believe that their training is a significant benefit to any that hears it!
From a personal and professional standpoint, healthcare responses can be emotionally and mentally crippling. Aimee and Brian help shed light and provide tools, on the "Now what!?" of how to continue to be quality care providers and still be human.
Aimee and Brian are both knowledgeable and empathetic. Their COVID-19 recovery program provides a safe and beneficial space to reflect on one's experiences in responding professionally to a stressful event. It also offers helpful tools to manage current stressors and improve resiliency to future events. This program was so helpful that it was repeatedly requested by our stakeholders throughout COVID recovery.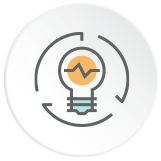 Implementing a Plan

FOR EMERGENCIES
Often clients come to us without an accurate sense of their capabilities or vulnerabilities. The first thing we do is assess your organization's capabilities and risks as this is the baseline for solid planning.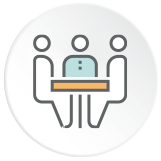 Training Personnel

FOR THEIR ROLES
It is essential to train the people who will be called upon during an emergency. Roles need to be clearly assigned and embraced so people know what they need to do and can act quickly. These skills need to be learned, refined, and refreshed.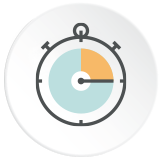 Performing Exercises

TO TEST THE PLAN
Test exercises ensure your emergency plans are workable, complete, and understood by those tasked with implementing them. Conducting test exercises empowers people to make decisions and mistakes in a safe environment and to learn from the experience.
We often speak at events for private organizations, public health departments, and state assocations including: